Stuck in the Middle of a Legal Matter?
I'll Fight to Get You Out
Aggressive
and
Informative
When working with an attorney, you want someone who is knowledgeable and who isn't afraid to take risks as they fight for the most positive result possible for your case. Throughout each step, I will do everything I can to help you while making sure you are kept up-to-date with every new advancement in your case so you won't have to stress about it.
Fighting for Your Rights.
Protecting Your Future.
When you're charged with a crime, it may feel like your freedom is being taken away, which may very well happen if you are convicted. With me on your side, you can rest assured that you will be in the hands of an extremely knowledgeable and experienced criminal defense attorney.
Throughout Collin, Tarrant, and Denton County, Texas, many people have contacted me out of desperation when no other attorney will take their case out of fear that they'd lose to the opposition in court. At the Law Office of Robert B Abtahi, I am focused on protecting your future and your freedom — not my reputation or record.
As a former prosecutor, I have seen how people can fall victim to disproportionately harsh penalties for crimes they may not have even committed. I decided to transition to criminal defense in Dallas because I know there are always two sides to every story. My goal is to make sure your voice heard so that you can have a fair chance of receiving a positive outcome for your situation.
If you've been accused of a crime and need an aggressive advocate in your corner, call my office today to schedule a free phone consultation. I can outline all of your legal options and craft a strategy to help you move forward.
Whether you're trying to get out of a harsh sentence or wanting to start a new business, I have the resources and knowledge needed to help you move forward.
It takes a committed person to tackle criminal defense or business law cases because of what's at stake. I will work diligently to ensure I do everything possible to help you reach a favorable result.
Throughout the process, I'll make sure to be as collaborative as possible by working closely with you to familiarize myself with your situation. I cannot make any guarantees about the conclusion of your case, but I can ensure I'll do everything within my power to help you.
Hear what my clients have to say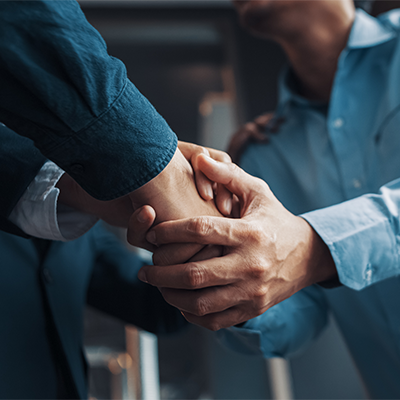 In all honesty, this is by far the #1 absolutely BEST LAW ATTORNEY OFFICE located in all of Dallas, I repeat by far and it's not remotely close.
Professional. Efficient. Personable. Overall the whole team is knowledgeable & diligent. Highly recommend for anyone seeking a great law firm in Dallas.
Robert is extremely professional, as well as responsive, and communicative. He immediately went right to work and has been truly amazing.
If I could give Robert and his colleagues 7 stars, I would. He was always available, whether it was 8 am on a Sunday morning or 9 pm on a Thursday night.
Fantastic representation. Robert and David helped me out tremendously. I never had to appear. They fought and succeeded in reducing my charge completely.
By far the best law office in Texas. No matter what you're going through. Robert Abtahi would even call me anytime I needed to ask a question or just needed an update.
There for You, From Start to Finish
In addition to criminal defense, my Dallas-based law firm has experience working within business law and personal injury matters. Whether you're a new entrepreneur and looking to start your first business or have been running a successful operation for years, you need a skilled business law attorney to guide you and your business through various legal matters.
For new businesses, entity formation and contract law is a phrase you've probably heard many times before. For established businesses, you may need an attorney for partnership disputes, employee or HR issues, and much more. No matter the issue, I can help you find a resolution so your company can avoid getting tangled up in legal pitfalls and keep moving forward.
For those looking to buy or sell commercial or residential property, you should work with an attorney to look over the documents — like purchase, sales, or lease agreements — to make sure what you're signing reflects what you discussed with the other party. I can also assist you through property tax, land use, and zoning disputes.
Getting injured in a car, 18-wheeler, construction, or slip-and-fall accident can have a large impact on your life too — especially if you're unable to work or perform household duties. If you or a loved one has been injured or killed as the result of negligence, reach out to me. Regardless of what you may be facing, contact my Dallas, Texas office today to schedule a free consultation. I proudly serve individuals in the counties of Collin, Tarrant, and Denton.